Holding Pressure and Vascular Origin Stories: History of Hemodialysis Access
In this crossover episode of Holding Pressure and Vascular Origin Stories Gowri and Marlene explore the history of hemodialysis access, the creation of arteriovenous fistulas and prosthetic grafts. During this episode Gowri interviews Dr. Appell- the surgeon who created the first AV fistula for hemodialysis access and Marlene interviews Dr. Schanzer about his experience with early hemodialysis access and the development of the distal revascularization and interval ligation procedure.  Below you can find a picture of the first Teflon shunt used for hemodialysis, The Artificial Kidney Center Admission and Policy Committee (aka 'God Squad'), evolution of early A-V shunts and Drs. James E Cimino, Kenneth Appell, Michael J. Brescia. 
Links to other podcasts on bioethics and finance of hemodialysis and the God Squad:
Beside Rounds: Episode 26 The God Squad
Freakonomics: Is dialysis a test case of medicare for all?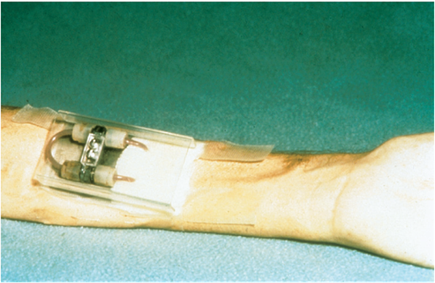 Clyde's Teflon shunt after 4 weeks in place. It is attached to a stainless steel arm plate with a plastic protective cover over it. The couplings are two modified "Swagelok" plumbing reducing unions with stainless steel bodies and nylon caps and ferrules. [9]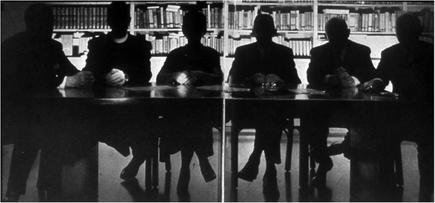 The Seattle Artificial Kidney Center Admissions and Policy Committee, in a photograph taken by Lawrence Schiller for Life magazine. [9]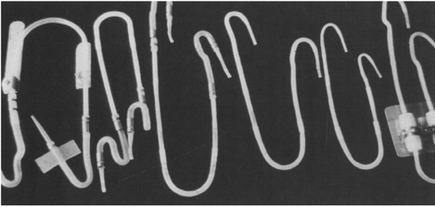 The evolution of the A-V shunt. To the far right Is the original all-Teflon A-V shunt with Swagelok connectors, which actually were plumbing fixtures mounted on a steel plate. In late 1960, Quinton greatly simplified the circuit by devising a direct Teflon-Telfon joint, which Is shown in the next two examples. The examples in the center and to the left are all various configurations of the Silastlc-Teflon version of the A-V shunt. The silicone rubber segment provided flexibility to the circuit so that the cannula tip did not move when the patient moved the forearm. This improvement in the design increased cannula life 10-fold [13]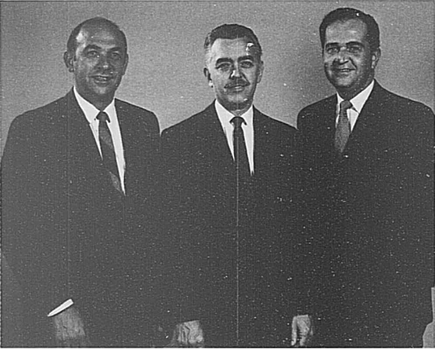 From left to right: James E Cimino, MD Chief of Nephrology Service, Kenneth Appell MD, Surgeon, Michael J. Brescia MD, Attending Physician Nephrology Service. [5]
References:
[1] Klaus Konner. History of vascular access for haemodialysis. Nephrol Dial Transplant (2005) 20: 2629–2635.
[2]  B.H. Scribner, R. Buri, J.E.Z. Caner, R. Hegstrom, J.M. Burnell. Preliminary report on the treatment of chronic uremia by means of intermittent hemodialysis. Trans Am Soc Artif Intern
Organs 1960; 6: 114–12.
[3]  Wayne Quinton, David Dillard, and Belding H. Scribner Authors. Cannulation of Blood Vessels for Prolonged Hemodialysis. Transactions of the ASA10, 1960, Vol. 6, pp. 104–107.
[4] Brescia MJ, Cimino JE, Appel K, Hurwich BJ. Chronic hemodialysis using venipuncture and a surgically created arteriovenous fistula. N Engl J Med 1966; 275: 1089–1092
[5] Cimino JE, Brescia MJ. The early development of the arteriovenous fistula needle technique for hemodialysis. ASAIO J 1994; 40: 923–927
[6] Scribner. Hemodialysis Using an Arteriovenous Fistula. N Engl J Med 1966; 
[7] Baker, L. D., Jr, Johnson, J. M., & Goldfarb, D. (1976). Expanded polytetrafluoroethylene (PTFE) subcutaneous arteriovenous conduit: an improved vascular access for chronic hemodialysis. Transactions - American Society for Artificial Internal Organs, 22, 382–387.
[8] Blagg, CR. Development of ethical concepts in dialysis: Seattle in the 1960s. Nephrology  1998; 4, 235-238
[9] Blagg CR. The Early History of Dialysis for Chronic Renal Failure in the United States: A View From Seattle. World Kidney Forum.
[10] Rettig, RA. Origins of the Medicare Kidney Disease Entitlement: The Social Security Amendments of 1972. Biomedical Politics. Institute of Medicine (US) Committee to Study Decision Making; 1992
[11] Scribner, B. Treatment of Chronic Uremia. 
[12] United States Renal Data System. 2020 USRDS Annual Data Report: Epidemiology of kidney disease in the United States. National Institutes of Health, National Institute of Diabetes and Digestive and Kidney Diseases, Bethesda, MD, 2020.
[13] Scribner, Belding. A Personalized History of Chronic Hemodialysis. American Journal of Kidney Diseases. Vol XVI No 6. December 1990. pp511-519
Hosts:
Marlene Garcia-Neuer (@GarciaNeuer) is a MS4 at THE Ohio State University College of Medicine.
Gowri Gowda (@GowriGowda11)  is an MS3 at Tulane University School of Medicine. 
Guests:
Dr. Harry Schanzer, Vascular Surgeon Mount Sinai Hospital and Bronx VA (retired)
Dr. Kenneth Appel, General Surgeon, Bronx VA (retired)
Calling all medical students!
Submit your questions for the mailbag episode! Ask us any question related to vascular surgery, and have it answered on the podcast. 
Include the following
Your name, school, and year

Who you want to address the question to (resident, fellow, attending, or someone specific)

Send them in writing, or in voice recorded format. 
Send them to HoldingPressure.AudibleBleeding@gmail.com. Also send us any ideas, suggestions, or comments.
Please share your feedback through our Listener Survey!
Follow us on Twitter @audiblebleeding
Learn more about us at https://www.audiblebleeding.com/about-1/ and #jointheconversation.
Please share your feedback through our Listener Survey!
Credits:
Author: Marlene Garcia-Neuer, Gowri Gowda
Editor: Yasong Yu
Reviewers: Sharif Ellozy, Adam Johnson