Vascular Origin Stories is a podcast series that explores the fun and engaging stories that shaped vascular surgery. 
Today's episode will be the second part of a multi-episode series exploring how the young battalion surgeons serving in MASH units in the Korean war pioneered wartime vascular repair. Today we'll explore in detail the individual stories of adversity, courage and perseverance that led to the re-introduction of arterial repair in the military. Major sources for the episode are linked below, and a full reference list can be found at the bottom of the page.
If you haven't heard it yet, check out Part 1 of this two part series published Aug 2022. VOS: Mash - Part 1

Articles
Books
M*A*S*H Episodes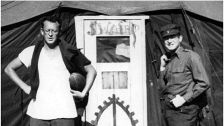 Richard Hornberger, at his tent nick-named the Swamp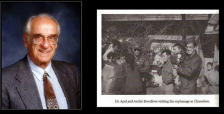 Otto Apel (Left), Otto Apel visiting Korean Orphanage (Right)
References
[1] Robinson, A. Galen: Life Lessons from Gladiatorial Contests. The Lancet Perspective. Vol 382, Is. 9904. November 2013.
[2] Friedman, S.G. A History of Vascular Surgery. Futura Publishing. 1989.
[3] Van Way, C. War and Trauma: A History of Military Medicine. Mo Med. 2016 Jul-Aug;113(40:260-263)
[4] Hernigou, P. Ambroise Pare II: Pare's contributions to amputation and ligature. Int Orthop. 2013 Apr; 37(4): 769-772
[5] Van Way, C. War and Trauma: A History of Military Medicine- PArt II. Mo Med. 2016 Sep-Oct; 113 950:336-340 
[6] Apel, O. Apel, P. MASH: An Army Surgeon in Korea. The University Press of Kentucky. 1998. 
[7] King, B. Jatoi, I. The Mobile Army Surgical Hospital (MASH): A Military and Surgical Legacy. Journal of the National Medical Association. Vol. 97, No 5. May 2005.
[8] Friedman, S.  Korea, MASH and the Accidental Pioneers of Vascular Surgery. Journal of Vascular Surgery. 2007.
[9] Wesselingh, R. From Milites Medici to Army Medics- A two Thousand Year Tradition of Military Medicine. Journal of Military and Veterans' Health. Vol 16, No 4.
[10] Gabriel, R. Between Flesh and Steel: A History of Military Medicine from the Middle Ages to the War in Afghanistan. Potomac Books. 2016
[11] Jorgensen,T.J. How Marie Curie Brought X-Ray Machines To the Battlefield. Smithsonian Magazine. Oct 11. 2017
[12] Of Life and Limb: Surgical Repair of the Arteries in War and Peace, 1880-1960. Joseph Barr. University of Rochester Press; 1st edition. November 1, 2019. 
[13] Duffy, T.P. The Flexner Report- 100 Years Later.  Yale Journal of Biological Medicine. 2011 Sep;84(3): 269-276 
[14] Andrew Dale. Band of Brother: Creators of Modern Vascular Surgery. Deweese. 1996
[15] John Kobler. The Reluctant Surgeon, a Biography of John Hunter. Doubleday and Company. 1960
[16] Eugene Custers, Ollen ten Cate.The History of Medical Education in Europe and the United States, With Respect to Time and Proficiency. Academic Medicine. March 2018-Vol. 93 Is. 3S
[17] Kapp, K. Talbot, G. John Hunter, The Father of Scientific Surgery. The American College of Surgeons. Poster CC2017. 
[18] "Alpha Omega Alpha' History". Website.
[19] Kenneth M. Ludmerer. Learning to Heal: The Development of American Medical Education. Basic Books, Inc., Publishers. New York. 1985
[20] Richard Hooker and WC Heinz.  MASH: A Novel About Three Army Surgeons. Pocket Books. 1968. 
[21] Jahnke Jr., E.J., Seeley S.F. Acute vascular injuries in the Korean War: an analysis of 77 consecutive cases. Ann Surg. 1953; 138: 158-177
Author + Host:
Marlene Garcia-Neuer (@GarciaNeuer) is a PGY1 General Surgery Resident at Mayo Clinic Arizona.
Calling all medical students!
Submit your questions for the mailbag episode! Ask us any question related to vascular surgery, and have it answered on the podcast. Include the following: Your name, school, and yea; Who you want to address the question to (resident, fellow, attending, or someone specific)
Send them in writing, or in voice recorded format. 
Follow us on Twitter @audiblebleeding
Learn more about us at https://www.audiblebleeding.com/about-1/ and #jointheconversation.
Music by ZakharValaha and Kaazom from Pixabay,